Desktop Plagiarism Checker
1.22
(No) Verification necessary
Plagiarism detection has come a long way since the 20th century. Just imagine if the Internet had existed in the early nineteen hundreds, Einstein's paper would not have been so appreciated in the light of Lorentz 'and Poincaré's preexisting works. But since human lemmings have a brain similar to a ROM drive, once you imprint fresh information into their skulls, there's barely any chance for them to consider an alternative afterwards. So now not only do we still see science through that kooky unscientific mathematical construct, but its "originator" was a lousy person who stole other people's work. Anyway, were not here to discuss tribal originality (or lack thereof), but to rejoice that things like that cannot ever happen again.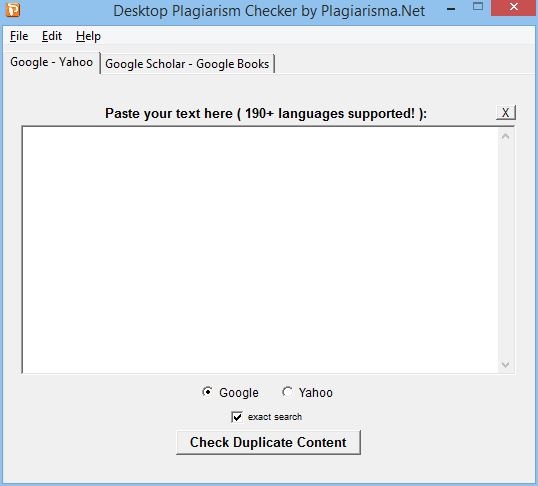 Desktop Plagiarism Checker is clearly not advanced enough to detect plagiarized ideas, that's still the job of intellectuals. However it excels in the realm of expressions and phrasing. Thanks to modern search engines, and the fact that most, if not all works are also found online, checking for duplicate content doesn't take more than mere minutes to complete.
This desktop application mirrors the functionality of its online incarnation and uses the Google and Yahoo search engines to perform text verifications. What you need to do is copy the 'original' into the text box, select the search engine and then click the big button. The verification can take a little while, and it can even crash in the meantime. The good part is that you have an unlimited number of tries. The less spiffy part is that you will need to create an account with plagiarisma.net to be able to even use Desktop Plagiarism Checker.
Once the search finishes, a second window will open up showing the results. Laymen will not be able to decipher the information, but any bloke with a basic understanding of the web will realize that he's looking at raw HTML content. Simply save the page using the supplied save button and then open it in your browser. The contents will be splayed out in a table, showing the level of uniqueness of each phrase, and providing links to relevant articles.
Features
Comprehensive HTML based results
Exact match search toggle
Conclusion
Desktop Plagiarims Checker is simple enough to not warrant any further explanation. It is indeed a bit weird that it is a desktop based app when you already have an online resource. But hey, some like to have desktop shortcuts and separate windows. However, I cannot recommend something that is already available online and in a more palatable form.
RELATED PROGRAMS
Our Recommendations
---
---
---
---